Canal auto avril 2001 – Chrysler Sebring – La référence US investit l'Europe
Lorsque l'on veut implanter avec succès une marque considérée comme trop confidentielle, il faut décliner les produits tant en terme de polyvalence que d'attractivité. C'est la démarche poursuivie depuis quelque temps déjà par Chrysler en Europe qui vient de clôturer le renouvellement complet de sa gamme commencé au printemps de l'an dernier.
Du Cherokee à la Jeep Wrangler en passant par l'étonnant PT Cruiser, les présentations n'ont fait que se succéder, rehaussées récemment par le nouveau monospace Voyager et le binôme cabriolet-berline Sebring objet de notre essai.
Voiture à forte personnalité censée conforter le domaine image du constructeur de Detroit, en continuité avec la fameuse Viper, le cabriolet Sebring a fait l'objet de maintes attentions par les responsables des bureaux d'études. Il faut dire qu'entre le souhait de pérenniser le leadership du cabriolet aux Etats-Unis, pole-position obtenue depuis 4 ans avec le « découvrable » Stratus, et celui de contester la concurrence germanique et scandinave sur le Vieux Continent, il était préférable de frapper juste. Un objectif pleinement réussi au plan du design et de l'habitabilité, satisfaisant sur le plan des qualités mécaniques, mais un peu restrictif au niveau du comportement en général et des suspensions en particulier.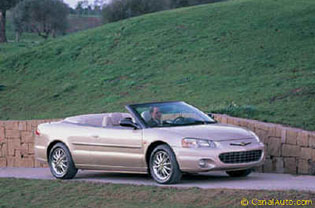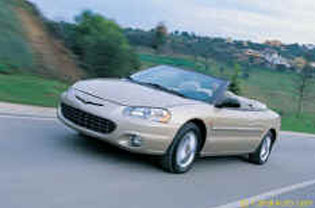 Look aguichant
Prénommée Sebring en référence au circuit automobile bien connu, et dessiné selon l'architecture « Cab Forward » – habitacle avancé -, cette décapotable avec calandre typique Chrysler, dotée d'une jolie proue surbaissée et de beaux arrondis aérodynamiques offre une silhouette aguichante et moderne. D'un accès à quatre vraies places, l'habitacle est d'ailleurs à l'unisson, qui conjugue notion d'espace et raffinement. Entre la sellerie cuir, la finition bois sur les portes, le tableau de bord à compteurs analogiques circulaires, l'air conditionné, le régulateur de vitesse et le verrouillage centralisé, tous équipements livrés en série, ce Sebring bénéficie d'un lot de finitions de qualité qui contribuent au bien-vivre à bord.
Si l'on ajoute à cela, un processus antivol Key TM sophistiqué et un dispositif de capote électrique efficace avec de concert, une descente automatique des quatre fenêtres latérales, l'on doit constater que l'aspect convivialité-sûreté du véhicule n'a pas été négligé.
D'un point de vue mécanique, les progrès ne sont pas en reste puisque ce cabriolet US dispose d'un nouveau bloc 6 cylindres entièrement alu qui remplace avantageusement l'ex V6 2,5 l de la Stratus. Développant 200 ch, soit 32 de plus que le précédent, ce moteur voit son couple augmenter singulièrement (25,5 mkg à 4300 t) tout en diminuant la consommation.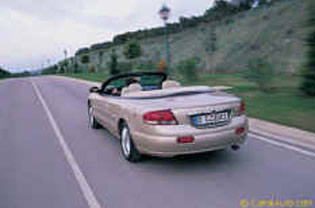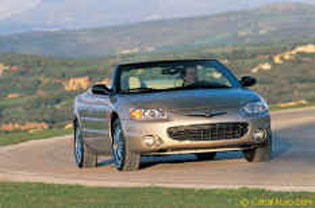 Prix attractifs
Une dernière donnée toute relative cependant, car compte tenu du poids de l'auto – 1580 kg – et des effets de la boîte automatique, il faut compter sur un bon 10,7 l de moyenne, sans solliciter la voiture plus que nécessaire. Cela dit, les performances moteur restent convenables (0 à 100 km/h en 9″5 et 1000 m en 30″3) et la vitesse maxi largement suffisante pour les consignes en cours – 210 km/h – encore qu'à partir de 160 km/h le bruit délivré dans le cabriolet capoté s'avère préjudiciable.
Une impression distincte donc, qui vaut également pour l'agrément de conduite selon que l'on se confine à un comportement relax sur un parcours peu sinueux, ou à une attitude un peu plus entreprenante sur un itinéraire tourmenté où les lacunes de la coque contribuent à rendre cette auto, très longue d'envergure (4,92 m), moins agile que ses concurrentes.
Un petit désavantage face à ses rivales européennes, BMW Série 3, Mercedes CLK ou Saab 9-3 Cabriolet que le Sebring compense largement au niveau du tarif, puisque ses prix de 199 900 F pour le modèle 2,0 l ou de 229 900 F pour le V6 2,7 l, sont inférieurs d'environ 50 000 F aux cabriolets de la concurrence.
Moteur : 2736 cm3 – Puissance : 200 ch à 5900 tr/mn – Couple : 260 Nm à 4300 tr/mn – Poids en ordre de marche : 1580 kg – Dimensions (L/l/h) : 4,92 / 1,76 / 1,39 m – Consommation moyenne : 10,61 l / 100 km – Vitesse maxi sur circuit : 210 km/h
Les plus : Design à forte personnalité, habitabilité, performance moteur
Les moins : Consommation, comportement
Source : Canal auto
---
The Scoop at Chrysler Group 2003 – Chrysler Sebring: America's Best-Selling Convertible
Chrysler continues its stronghold in the convertible market, a segment the company has dominated for more than 20 years since introducing the LeBaron in 1982. For 2004, Chrysler gives Sebring Convertible a new appearance consistent with the new visual identity of the brand.
« Top down, Chrysler continues to dominate the convertible market with Sebring Convertible, » said Tom Marinelli, Vice President, Chrysler Marketing, DaimlerChrysler Corporation. « With its head-turning design, premium amenities and spacious room for four, Chrysler Sebring Convertible continues to be America's favorite. »
Chrysler will offer four versions of its Chrysler Sebring Convertible in 2004: Chrysler Sebring Convertible, Chrysler Sebring Convertible GTC, Chrysler Sebring Convertible Touring, and Chrysler Sebring Convertible Limited. All Sebring Convertibles boast a spacious interior, including a class-leading cargo area of 11.3 cu. ft., for a total of 101.6 cu. ft. — large enough to fit two sets of golf clubs.
The 2004 Chrysler Sebring Convertible features a restyled front fascia with scalloped headlamps and a new grille. A new « Radiation » 16-inch painted aluminum wheel design is standard on Touring and available on the base model. New « Bladerunner » chrome-clad aluminum wheels are standard on Limited.
Inside, the 2004 Chrysler Sebring Convertible has audio steering wheel controls for improved driver convenience as standard on Touring and Limited. The Touring and Limited models now include ultra suede accents with leather seats.
All Sebring Convertibles boast a spacious interior, including a class-leading cargo area of 11.3 cu. ft., for a total of 101.6 cu. ft.
For 2004, the Chrysler Sebring Convertible is equipped with front disc/rear drum brakes on models ordered with the 150 horsepower (112 kW) 2.4-liter engine with 160 lb.-ft. (218 N•m) of torque and without anti-lock brakes. All vehicles with anti-lock brakes or the 200 horsepower (149 kW) 2.7-liter engine with 190 lb.-ft. (258 N•m) torque have four-wheel disc brakes as standard equipment. Low-speed traction control is now included with anti-lock brakes.
Chrysler Sebring Convertible is also equipped with BeltAlert™, Chrysler Group's new enhanced seat belt reminder system. If the vehicle is driven without the driver being properly belted, the BeltAlert system will periodically activate a chime and illuminate a light in the instrument cluster to remind the driver to buckle up. The driver should then instruct all occupants to buckle up as well.
Sebring Convertible is designed for all-season enjoyment with a full cloth or vinyl headliner crafted from state-of-the-art materials for providing sound and poor-weather insulation. The convertible top also features a solid glass back window and electric rear window defroster, as well as a side windows down system that is activated simultaneously with the top-down switch.
A short/long arm (SLA) front suspension system provides superior balance between handling stability and ride comfort, while rear multi-link suspension contributes to refined ride and agile handling by reducing friction.
Chrysler Sebring Convertible is manufactured at DaimlerChrysler's Sterling Heights Assembly Plant in Sterling Heights, Mich., alongside Chrysler Sebring and Dodge Stratus sedans. Chrysler sells approximately 33,000 Sebring Convertibles every year, and has a 12 percent share of the U.S. convertible market.
2004 Feature Highlights
Models
• For July 2004, realign the Chrysler Sebring Convertible to reflect the new Chrysler brand price class. Listed below are the model changes.
• Sebring LX becomes the Sebring
• Sebring, GTC stays Sebring GTC
• Sebring LXi becomes Sebring Touring
• Sebring Limited stays Sebring Limited
Chassis
• Low-speed traction control is packaged with ABS brakes
• New 16-inch painted aluminum wheels — opt. on Sebring and std. on Sebring Touring
• New 16-inch chrome clad aluminum wheels — std. on Sebring Limited
Body
• New exterior colors Satin Jade Pearl Coat and Graphite Metallic
• New front fascia design with new scalloped headlamps
Electrical and Electronic Systems
• Audio steering wheel controls (packaged with leather seats)
Interior
• Color-keyed instrument panel bezels on Sebring
• New cluster design
• New Dark Slate Grey interior — Sebring, Sebring GTC and Sebring Touring
• New Jade and Light Taupe interior color — Sebring Limited
2003 Model Year
• 2.7-liter SOHC V-6 Flexible Fuel Vehicle (FFV) engine with ATX
• 15-inch painted 10-spoke Chrysler wheelcover — Standard on LX
• Exterior colors Deep Lava Red and Brilliant Black Crystal
• Six-disc in-dash CD changer replaces four-disc in-dash CD changer
• Child Seat Anchor System added — LATCH (Lower Anchors and Tethers for CHildren)
2002 Model Year
• Sebring GTC model (mid-year introduction)
• Heated Leather Seats, optional (mid-year introduction)
• Additional offering: 2.4-liter DOHC, 16-valve SMPI I-4 engine — Standard on LX
• AM/FM Stereo Radio with cassette, CD and equalizer — Optional on LX
• 2.4-liter Engine meets Low Emission Vehicle requirements in all 50 states
2001 Model Year
• 2.7-liter V-6 engine standard, with 200 horsepower (149 kW), 192 lb.-ft. (260 N•m) of torque
• Standard Four-wheel Disc Brakes
• Available ABS Plus anti-lock brake system
• All-new Body Structure
• All-new Interior Trim, Seats and Instrument Panel
• Next-generation Multi-stage Front Air Bags (driver and passenger) (a)
• Inside Emergency Trunk Release
(a) Certified to federal regulations that allow less forceful air bags. Always use seat belts. Remember, a back seat is the safest place for children.
2000 Model Year
• Chrysler Seal on steering wheel
• Refined Rear Suspension
1999 Model Year
• Standard 2.5-liter, SOHC, 24-valve SMPI V-6
• Next-generation Driver-side Air Bag(a)
• New Grille with winged « Chrysler seal » medallion
1998 Model Year
• Optional Four-wheel Disc Brakes with traction control
• Available Sentry Key® Engine Immobilizer
• Sebring Limited Group (November 1997 introduction)
1997 Model Year
• AutoStick® Driver-interactive Transaxle Control System — Available with 2.5-liter engine
1996 Model Year
• Initial introduction spring 1996
• 2.4-liter, DOHC, 16-valve SMPI I-4 Engine
• 2.5-liter, SOHC, 24-valve SMPI V-6 Engine
Market Position
Chrysler Sebring Convertible delivers open-top fun and freedom with a unique combination of elegance, room and comfort. Sebring Convertible maintains its spacious total interior volume of 101.6 cu. ft.
Market Advantages
Sebring Convertible builds on the unprecedented combination of unmistakable road presence, athletic handling, and spacious interior size to remain at the forefront of the segment. Sebring Convertible provides all of the fun of a convertible, while resolving typical open-car issues such as comfort, quietness and roominess.
(Published August, 2003)